---
The wife of Judge Arthur Engoron has denied making anti-Trump posts on X, after conservative activist Laura Loomer said Dawn Engoron was behind an account that frequently posts anti-Trump content against the former president.
(Article by Tyler Durden republished from ZeroHedge.com)
According to Loomer, Dawn Marie Engoron ran a Twitter account @dm_sminxs, where she has allegedly been posting "FUCK TRUMP" tweets, photos of Trump in an orange jump suit, and retweeting attacks on Trump while the trial was ongoing.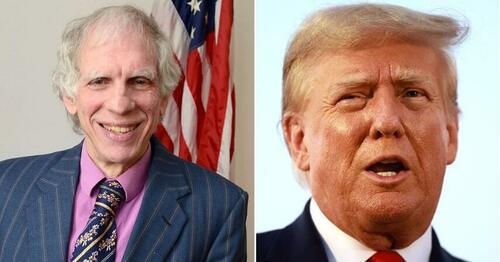 Dawn Engoron denied the claims, telling Newsweek: "I do not have a Twitter account. This is not me. I have not posted any anti Trump messages."
But does she have an X account?
Engoron is overseeing Trump's New York civil case, in which AG Letitia James has accused the former President and his organization of inflating their net worth by billions of dollars to obtain premium financing between 2011 and 2021. In September, Engoron ruled – sans jury, that Trump's financial statements committed fraud.
Loomer doubled down, noting that the suspected X account has been locked, that Newsweek "admit(s) they can't definitively say this account doesn't belong to Arthur Engoron's wife," and that Engoron's son has deleted his LinkedIn account yesterday "after I exposed him getting preferential seating from his father in the trial of President Trump."
Loomer also says that "According to the rules of the Chief Administrative Judge of the New York State Unified Court System, judges must "not allow family, social, political or other relationships to influence the[ir] … judicial conduct or judgment."
She has called for Engoron to recuse himself.
That said, Newsweek spoke with former federal prosecutor Neama Rahmani, who said that a judge's spouse's social media is "not by itself grounds to disqualify a judge," pointing to Ginni Thomas, the wife of USSC Justice Clarence Thomas, whose pro-Trump posts have drawn scrutiny (though, not on an active trial her husband is reviewing – so nice try.)
"Judges themselves have to post something that raises concerns about their impartiality for recusal or disqualification to be appropriate. Family member social media activity, even one's spouse, isn't enough," said Rahmani.
Following Loomer's reporting, conservative commentators called for a mistrial, with former Trump admin official Richard Grenell calling it a "sham trial."
"The case should be dismissed IMMEDIATELY!," former Trump White House comms director Mercedes Schlapp said on X.
So – a case of mistaken identity, or is Dawn Engoron lying?
Read more at: ZeroHedge.com
Submit a correction >>